Sam Hocevar's .plan
This is an experimental blog engine. RSS feeds: everything | blog | Debian (DPL only) | VideoLAN | GNOME | Mono
Posted on Sun, 24 Feb 2008 13:17:04 +0100 - Keywords: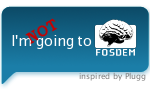 Hello, dear developers. I suppose many of you are currently at FOSDEM, but unfortunately I could not attend the event this year. Here are some news for you anyway!
FTP assistants
I am very pleased to let you know that yesterday Peter Palfrader (weasel) added Kalle Kivimaa (killer) and Thomas Viehmann (tviehmann) to the list of FTP assistants. I still hope that more people can be added soon to this team, but this is definitely good news.
Marketing team
At the various conferences I attended I have paid much attention to how other distributions and FOSS projects were promoting their work, and despite us often having t-shirts, stickers and posters like the others, we really miss a few things which would make Debian as appealing as other, dynamic projects.
I would like to set up a Debian Marketing Team, whose work would be to organise all the promotional stuff (logos, t-shirt designs, wallpapers, etc.) so that the project can officially endorse good designs, and to make the ultimate decision on visual stuff such as CD covers, splash screens, etc.
This team would have official DPL delegation, but I hope that it can also work with non-Debian-developers, as many packaging teams already do, because the non-DDs know better than us how to draw people to Debian. So please let me know if you are interested, even if you are not a DD, and especially if you are not a programmer!
I also would like to spend some Debian money on a contest, similar to the FreeBSD logo contest, to create a friendly mascot for the Debian project (in a similar way to the Linux penguin or the GNU gnu) that we can use where the logo is not enough. More on this in a few days.
Development news
Last month Petter Reinholdtsen (pere) gave some news about his project of improving the init system. This is almost as simple as adding LSB headers to your init scripts, and work is advancing towards this goal, though not as quickly as desirable. If your packages have init scripts, or if you wish to help, I urge you to have a look at the proposal so that we can have it in Lenny.
DPL elections
The new DPL term is in almost 2 months, but campaign starts next month. I have already stated that I would not run again, and haven't changed my mind. As many, many Debian developers are attending FOSDEM, I hope you can use some real-life meeting time to discuss the people you think would make good DPLs and tell them. Maybe they haven't thought of running (or re-running).
Being DPL does have an impact on your real life. If you are still wondering whether to run, or have any personal questions, feel free to ask me, I'll gladly share my experience.