Sam Hocevar's .plan
This is an experimental blog engine. RSS feeds: everything | blog | Debian (DPL only) | VideoLAN | GNOME | Mono
Posted on Thu, 1 Apr 2010 11:13:09 +0200 - Keywords:
Today, the Internet will be full of bullshit.
Posted on Fri, 28 Aug 2009 10:58:54 +0200 - Keywords:
For those who wondered what I was up to, it's now been 6 months since I started working as an R&D engineer at DONTNOD Entertainment, an awesome video game company. The studio is working on an AAA action-aventure game for HD consoles (PS3/X360) set in the near future, codenamed ADrift.
In case you want to join the fun, or know someone who does, we're looking for a talented tools programmer. The responsibilities include:
Improving the tools currently used by designers, artists and developers.
Creating new user-friendly tools to facilitate development.
Communicating with the teams to identify needs.
The requirements for the position are:
Prior experience working in the game industry.
3-4 years experience with C/C++.
Strong code architecture and design skills.
Excellent communication skills and ability to work with teams.
Knowledge of 3D engines and graphics data formats.
Experience with Unreal Engine highly appreciated.
The position is in Paris, France. If you are interested, you can directly send a resume to jobs at dont-nod dot com. If you want to know what it's like working at DONTNOD, you can drop me an e-mail, but please understand that a lot of the information is company-sensitive and I cannot share it.
We are also looking for an audio programmer and 3D animators. Please refer to these job offers for more information.
Posted on Sun, 19 Jul 2009 02:45:32 +0200 - Keywords:
We finally put together a new release of GtkGLArea, version 2.0.1. This version fixes Win32, Win64 and 64-bit Linux portability issues and numerous minor bugs. It can be downloaded from the GNOME FTP repository.
GtkGLArea actually consists in one simple library, libgtkgl. It provides three GTK+ extensions to manage OpenGL contexts: GtkGLArea, GdkGLContext and GdkGLPixmap.
Because it uses it in one of its commercial products, my previous employer sponsored the work my research team did on GtkGLArea. This disclaimer is the perfect opportunity to hint that GtkGLArea can be fit for production, including on the Windows platforms.
Posted on Wed, 1 Apr 2009 20:55:26 +0200 - Keywords:
2009 will be the year of Linux on the desktop.
Posted on Sun, 24 Feb 2008 13:17:04 +0100 - Keywords: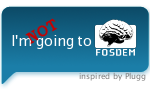 Hello, dear developers. I suppose many of you are currently at FOSDEM, but unfortunately I could not attend the event this year. Here are some news for you anyway!
FTP assistants
I am very pleased to let you know that yesterday Peter Palfrader (weasel) added Kalle Kivimaa (killer) and Thomas Viehmann (tviehmann) to the list of FTP assistants. I still hope that more people can be added soon to this team, but this is definitely good news.
Marketing team
At the various conferences I attended I have paid much attention to how other distributions and FOSS projects were promoting their work, and despite us often having t-shirts, stickers and posters like the others, we really miss a few things which would make Debian as appealing as other, dynamic projects.
I would like to set up a Debian Marketing Team, whose work would be to organise all the promotional stuff (logos, t-shirt designs, wallpapers, etc.) so that the project can officially endorse good designs, and to make the ultimate decision on visual stuff such as CD covers, splash screens, etc.
This team would have official DPL delegation, but I hope that it can also work with non-Debian-developers, as many packaging teams already do, because the non-DDs know better than us how to draw people to Debian. So please let me know if you are interested, even if you are not a DD, and especially if you are not a programmer!
I also would like to spend some Debian money on a contest, similar to the FreeBSD logo contest, to create a friendly mascot for the Debian project (in a similar way to the Linux penguin or the GNU gnu) that we can use where the logo is not enough. More on this in a few days.
Development news
Last month Petter Reinholdtsen (pere) gave some news about his project of improving the init system. This is almost as simple as adding LSB headers to your init scripts, and work is advancing towards this goal, though not as quickly as desirable. If your packages have init scripts, or if you wish to help, I urge you to have a look at the proposal so that we can have it in Lenny.
DPL elections
The new DPL term is in almost 2 months, but campaign starts next month. I have already stated that I would not run again, and haven't changed my mind. As many, many Debian developers are attending FOSDEM, I hope you can use some real-life meeting time to discuss the people you think would make good DPLs and tell them. Maybe they haven't thought of running (or re-running).
Being DPL does have an impact on your real life. If you are still wondering whether to run, or have any personal questions, feel free to ask me, I'll gladly share my experience.
Posted on Thu, 6 Dec 2007 20:08:31 +0100 - Keywords:
Incredible !ndia
As Christian already stated, we are currently in this lovely city with friendly people whom we French people have great trouble understanding, totally insane traffic and colourful taxis you find nowhere else, and dangerously spicy food. And no, it's not Mexico City.
My first talk at FOSS.IN/2007 in Bangalore, India (Giving back to the community: how does Debian perform?) was an attempt at explaining to upstream developers what Debian did with their software, and where to proactively find information about the changes we do, the bugs that are reported, etc. I did this talk because Bangalore has this incredible ratio of software developers per square kilometer, while at the same time we have so few Indian DDs despite the 1.12 billion inhabitants. So I expected to find people doing much development but not necessarily familiar with Debian.
With Christian's two other talks about translation works in Debian and how to contribute to Debian, we did quite a thorough coverage of Debian for a novice audience. My second talk, in the main conference track, will be on Saturday and will be an even more general presentation of Debian. Of course, my slides are not ready yet, what did you expect?
Debian business cards
There has been great interest in my Debian business cards, so I'm providing their SVG source (to be loaded and printed in Inkscape, for they make extensive use of the blur effect which is an Inkscape extension) for anyone interested. They use the Sexsmith and Sans Condensed Uralic fonts, available in Debian packages ttf-larabie-straight and ttf-uralic.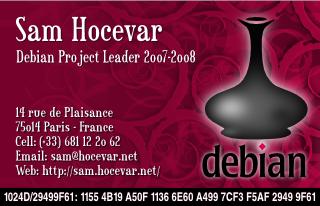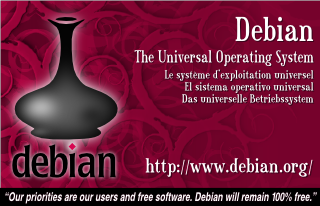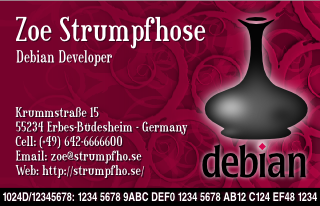 I don't know enough about SVG scripting and object cloning, so to do the text shadow you will have to edit the same object twice. Sorry about that. Here are the files: background image (PNG), generic DD front (SVG), custom DPL front (SVG), back (SVG). The background image was cropped from Ayo's Debian Expo wallpaper. The rest of the design should be considered public domain.
Just a note about the different languages I've been using at the back: I know I could have used more fancy languages with beautiful glyphs to show how truly universal our system is, but I did not know which to choose. So I just put the languages I personally vaguely understood.
Posted on Sun, 18 Nov 2007 18:10:16 +0100 - Keywords:
Hi there! There are a few delegations that I need to confirm or make official, so that we don't end up 5 years from now wondering when or how they happened.
First, Kalle Kivimaa (killer) was delegated Debian Auditor by the DPL last year and it was not completely obvious that delegation was to survive the end of Anthony's term. I am hereby confirming it is a permanent delegation (until resignation or future DPL decision).
Second, Peter Palfrader (weasel) was added to the team of Debian System Administrators (DSA). This is to be considered a normal delegation by the DPL.
And finally, Anibal Monsalve Salazar (anibal) was added to the Debian Maintainer Keyring team under the rules of the DM GR ("Changes to the team may be made by the DPL under the normal rules for delegations").
Posted on Sat, 3 Nov 2007 16:26:00 +0100 - Keywords:
I have been rather quiet during the last few months. Not really because I wasn't doing anything, but because most of what I have been doing was done by private e-mail. Apparently people are expecting the DPL to disappear around the middle of their term, because I did not get many complaints. But yes, I know that sucked. And well, I now have a reason to regain motivation.
\o/ DSA++ \o/



I am very, very pleased to let you know that this morning Phil Hands (fil) added Peter Palfrader (weasel) to the adm group. Which means that the DSA team now has a new member! The first since, wow, quite some time.
I am grateful to everyone who made this possible, for bearing with my insistance, for making concessions, for being patient, and I hope this is only the first step to bigger and better teams in Debian. Of course the path is still long but I must admit this is truly refreshing. I wish great success to Peter for the thankless job that awaits him.
Nexenta
After meeting Michael Man and several Sun people at Debconf and seeing Michael's great talk I got really convinced that the technology present in OpenSolaris could benefit Debian in many ways. And the shortest path to there seemed to be Nexenta.
I am currently discussing the possibility of having a Nexenta machine accessible to Debian developers to port and test their packages. I also suggested the Nexenta people to submit patches directly to Debian and try to join friendly packaging teams. Please be nice to them!
Conferences
Last month I attended Encuentro Linux 2007 in Arica, Chile where I gave a talk about the history and organisation of Debian and how to help and become a member of the project. Due to various issues (such as my passport being stolen when I was 2000 km away from the conference) I did not have the time to give my other planned talk about attracting developers who do not speak English to Debian and FLOSS projects.
Fortunately I was able to discuss it with members of the local communities. My goal is to understand why such a large Spanish-speaking area has so few Debian developers, and what we can do about that. One of my observations was that two very important documents (the Debian Policy and the Debian Developer's Reference) were not translated into Spanish, while for instance there is a French translation of the latter. Any volunteers?
Posted on Mon, 11 Jun 2007 14:33:56 +0200 - Keywords:
on my way to EDI
I'm stopping for a few days in London before I continue to Edinburgh and I should arrive at DebCamp on Wednesday evening or Thursday morning, depending on whether we travel by train, bus or plane.
I'm really looking forward to seeing everyone and I hope to have enough time to talk about everything we want to do and set up this year, be it the game team or the core teams, the website or the technical committee...
DSA team
I eventually got feedback about DSA team candidacies from the various members of the current team. I am relieved that the very idea of adding more people was not met with too strong objections, but now who exactly is going to be accepted is a whole other story. I'll keep you informed.
Posted on Sat, 26 May 2007 02:13:46 +0200 - Keywords:
chat with the FSF
I had a nice talk with Peter Brown, FSF Executive Director and Brett Smith, Licensing Compliance Engineer. We mostly talked about the GPLv3, the GFDL and the Nexenta project.
The official GPLv3 launch is approaching very fast, and the FSF was wondering how Debian could play an active part in it. As I also said on debian-devel I am not eager to promote the use of this new licence until we know how much of our libraries are GPLv2-only. Any ideas about what Debian could do are of course welcome.
We didn't talk much about the GFDL. The FSF's absolute priority right now is the GPLv3, the GFDL will be addressed later. After last year's GR Debian decided that works under that licence were free if they didn't use unmodifiable sections. We are still waiting for a fix for the badly worded DRM clause, which the FSF told me they're going to address. The Wikipedia project also has concerns with the GFDL so we should expect the licence to change a lot.
I opened a licensing questions ticket on May 16th to ask the FSF to clarify their position about the Nexenta and other OpenSolaris projects (full text available here). There are good chances that the answer will be in favour of allowing the redistribution, but it will take the FSF lawyers a few weeks to carefully write it down. I am personally enthusiastic about having this new port in Debian if possible.
disbursement of Debian funds
Around $4,300 USD (3,200 EUR) of Debian funds were spent or pledged to be spent this month, mainly on travel reimbursement for developers attending Debian meetings or representing Debian at various places. I will send any details to debian-private until I'm confident this is the kind of information I can really make public.
DSA team
Three weeks ago I posted about how not many people were proposing to help with the various core teams, and immediately got a lot more candidacies. Two weeks ago I sent a list and short description of 6 of these people to the current members of the DSA team for comment. Depending on what they are going to answer I'll decide on what to do next.
I haven't done anything similar about the other teams yet, apart from collecting proposals and ideas.