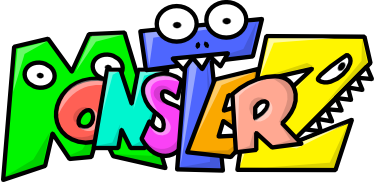 Monsterz - arcade puzzle game
Latest version: 0.7.1 (17 Dec 2007)
Monsterz is a little arcade puzzle game, similar to the famous Bejeweled or Zookeeper.
The goal of the game is to create rows of similar monsters, either horizontally or vertically. The only allowed move is the swap of two adjacent monsters, on the condition that it creates a row of three or more. When alignments are cleared, pieces fall from the top of the screen to fill the board again. Chain reactions earn you even more points.
This game is mostly about luck, but it remains highly addictive. You have been warned. Currently three modes are available:
Classic - play against the clock and clear a given number of each monster type to reach next level.
Puzzle - clear lines of monsters to move pieces around and put together the puzzle.
Training - play against the clock in a neverending level, chose the timer difficulty and number of monsters for infinite fun.
Monsterz is completely free software, available under the terms of the WTFPL. It was written by the following people:
Sam Hocevar (programming, graphics, sound FX)
Brendan Rackley (UI programming)
MenTaLguY (music)
Sun Microsystems, Inc., Michael Speck, David White & the Battle of Wesnoth project, Mike Kershaw (sound FX)
Screenshots
Requirements
Monsterz is written in Python and requires Pygame. First install these two pieces of software on your system.
Download Monsterz
Changelog:
0.7.1: removed scary language from the title screen.
0.7.0: replaced all sound files with free versions.
0.6.1: minor bugfix release, to make the game work with newer versions of Pygame and NumPy.
0.6.0: added a puzzle mode, added the "lucky monster" feature, a splash screen lets you breathe between levels, settings and scores are now properly saved under Windows, fullscreen toggling works under Windows.
0.5.0: added a training mode, added a difficulty selector, runtime settings are now saved, overal graphics enhancements.
0.4.2: better help menu, added helper eye, minor graphics enhancements.
0.4.1: fixed a bug that made you lose at level 10, fixed the "Surfaces must not be locked" error message, added a window icon.
0.4: initial public release
Development
The mailing-list for Monsterz users and developers is monsterz@lists.zoy.org. To subscribe, send an email to ecartis@lists.zoy.org containing the words "subscribe monsterz". To unsubscribe, just use "unsubscribe monsterz".
Please report bugs and make suggestions to monsterz@lists.zoy.org and don't forget to check the mailing-list archives.
The monsterz development is managed using Subversion. The svn://svn.zoy.org/monsterz/ repository can be browsed using the web interface, or directly with the Subversion client. For instance, to retrieve the repository, use this command:
svn co svn://svn.zoy.org/monsterz monsterz-svn
Links
Software repositories:
Free similar games: